Here is my newest addition (CAESAR = THE RULER OF ROME)
Hi i'm Caesar. I'm a Full Blooded Saint Bernard. I was born on January 5, 2001. My Father's name is Bly's Baby Boy and my Mother's name is Bly's Brandy.
I'm enjoying My new home. I was 22 pounds when I got here. Guess How much I weigh now a whooping 38 pounds. No wonder why she named me The ruler of ROME. Cause I'm going to be a big boy.
Last night was my worst experience ever I didn't realize the pool was that deep when I tried to walk across it. (Guess I'm not Jesus) (now I know I can't walk on water) I was in bad shape but after Mommy and Daddy took me to the vet I was put on medication for possible pneumonia. Thank god my neighbor rescued me Or I wouldn't be here today. Daddy's putting a gate up to the pool to prevent me from falling again. I don't think i'll go near that pool again. I learned my lesson. (To stay away from water period) Many thanks to Kimmy! She's my life - Savor (literally). Anyway after sleeping it off for a day or two I'm all better now. I'm tearing up the house and chewing everything in sight as usual. Thank you KIMMY!!
In the picture above i'm laying on the couch with my sister shadow. (she's the laziest of the bunch).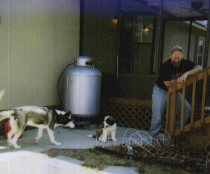 Here i'm getting to know my new surroundings. This was my first day at the house. As you can see shadow was a bit curious of me. The guy in the picture is Rich he's the one that gave mommy the money the money to buy my cute butt. He was really nice.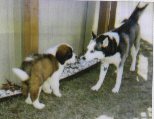 Here's Shadow and me again. Man she can't get enough of me. I think she likes me. Don't you. She probably thinks I'm hot. Well if you take a look at the pictures below you'll see that I am a little cutey. Growing bigger by the minute.

Here I'm showing off my muscles, no really i'm going to the bathroom. MAN! can't I get any privacy around here. Heck now Mommy posted me all over the internet cause she thought it was cute. Very Funny HAHA (See me laughing).



As you can tell I love posing for the camera. These are my 3 best shots. Just look at these pictures. (I'm so adorable) Hey where's my eye's I can't see.

Now take at look at this cute picture this was actually the day before I just into the pool. Doesn't my butt look like it's blending in with the wall. Mom should have named me Casper the Friendly Ghost! or do I look like a stuffed animal. I don't know. I say both.
That's all for now, Folks